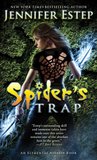 Spider's Trap by Jennifer Estep
My rating: 4 of 5 stars
Jennifer Estep's Spider's Trap is another thrilling book in the Elemental Assassin Series. Gin Blanco is the new queen of Ashland's underworld. Someone is trying to murder Gin. She needs to weave her own trap to find her would-be-killer. This urban fantasy novel is suitable for adult audiences.
Spider's Trap was a fast-paced and entertaining story. I really enjoyed the plot. It was full of mystery and intrigue. Gin is a great heroine. I like her Ice and Stone magic. She has grown a lot throughout this series. The fact that she is an assassin makes her tough and a considerable person to run the underworld, whether she wants to be in command or not. She has a great group of friends. She also has many worthy adversaries. Jennifer Estep does a great job of creating unique stories within this series and keeping it fresh.
Complimentary copy provided by NetGalley in exchange for an honest review.
Kindle Edition, 400 pages
Published July 28th 2015 by Pocket Books
Original Title: Spider's Trap
ASIN: B00P42WOWG
Edition Language: English
Series: Elemental Assassin #13
View all my reviews